Welcome to the Dominion Post! Due to the holidays, the updates for Wednesday, January 1, 2003, will be placed online after the updates of Thursday, January 2, 2003. Happy New Years!
This article appeared in the Dominion Post Newspaper on January 2, 2003.

Variety Show to Begin Taping at Digital Domain
Tickets available for live audience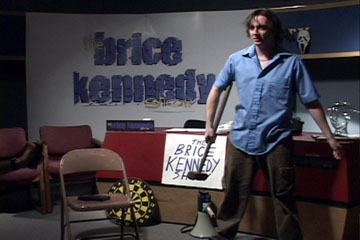 Brice Kennedy

BY PAMELA CYPHERT QUEEN
The Dominion Post



Brice Kennedy knows he's silly and cool and likes to have fun.

Now he wants others to see his antics up close and they'll have that chance Saturday when Kennedy goes into the studio to tape his fourth episode of "The Brice Kennedy Show".

Compared -- not always to Kennedy's liking -- to "The Tom Green Show", Kennedy's show can be seen at 11 p.m. Saturdays on Mountain Digital Channel 7 in Preston County.

The fourth episode will be taped at 7 p.m. Saturday in front of a live audience at the Digital Domain in Reedsville.

"I had the idea in late 1999 and I actually shot the first episode in October 2000," Kennedy said. "It takes a while to get things started and when I finally got enough money, enough resources and enough motivation to drive the thing full-force, I decided to do just that."

Kennedy knows that his show will be considered over the edge by some people. His second episode was nothing but Santa laughing for 30 full minutes.

"With my stuff you either love it or you hate it," he said. "I've had no feedback from the Christmas episode yet, but I figure when a person airs the same thing over and over you are going to get mixed reactions. People will either love it because they'll say 'Who would come up with this?' Others will hate it, but I know they'll turn back at 28 or 29 minutes to see if he is still laughing. And he is."

Kennedy said he has always been interested in television and works a day job in video production.

"TV always completely fascinated me and I was always in love with having my own show," he said. "A few years ago I learned about public access television. Once I found out about this public forum, I decided it was a good time to make a show."

Kennedy said his show is basically a comedic variety show with interviews and musical guests.

The fourth episode of "The Brice Kennedy Show" will feature WVAQ's Eric McGuire and Stimulus, a local rock band.

This will be the first taping in front of a live studio audience and Kennedy is nervous but expects to have fun.

Kennedy is also looking for a new co-host. He's auditioned one and has another audition lined up during Episode 4.

"At that point I may make a decision or I may continue the auditions," he said. "Whoever is silly enough and can put up with me will get it."

Nearly four episodes into his show, Kennedy has no plans to stop.

"I'm going to do this as long as I have fun with it," he said. "If it lasts six months, it will be a fun six months.

"If it lasts 10 years, it will be an unprecedented amount of time for a public access show to be on the air, but it will be fun."

The public is invited to Saturday's live taping. Tickets and directions to Digital Domain are available through Kennedy's web site at www.bricekennedy.com or by calling him at 291-2258.