The Pirates of I-79 raid Morgantown
By GRANT SMITH
Athenaeum Staff
Arrgh matey, the student film The Pirates of I-79 premiered Wednesday night in the Mountainlair Ballrooms.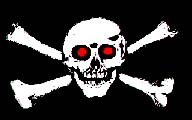 The 50-minute film is a mockumentary of a notorious band of pirates led by "Gary the Terrible" that roam Interstate 79 in search of booty.
These pirates are "rude, uncultured, sexually depraved, vulgar, swashbuckling scalawags," according to Kate Doily, the film's interviewer, played by Suzi Zakowski.
The Pirates of I-79 was produced by The Outlet, which is "a creative arts/production club based in Morgantown, W.Va., whose goal is to promote and facilitate student projects," according to the Web site.
This comedy piece had a budget of $200 and was filmed entirely in Morgantown with a digital camera, said producer Michael Miller.
The Outlet recently entered the film into the West Virginia Film Festival, and will be shown in Charleston at the Summers Street Capital Theater on May 3-6.
Miller said the local punk band the Warriors wrote a song specifically for the film. The film also featured two other songs by the band.
The cast features Aaron Flannigan as Captain Gary the Terrible; Brice Kennedy as Ivan the Infected, known for his more than numerous STDs; Rob O'Connor as One-Eyed Willi, the ship's navigator with two eyes and perfect vision; Timmy Ponden as Steely Dan, the disgruntled first mate; James Manecke as Syphillis the Pirate (not the disease); Josh Brick as Foreigner, who only speaks in Foreigner lyrics; Adam Rothrock as Debutte the Frenchman; Chad Henry as Dirty Sanchez; and Pegboy, as himself.
The mockumentary begins as Kate Doily interviews Morgantown residents and businessmen about the infamous pirates of the "concrete seas." She and her cameraman eventually join with the pirates to tell their story and chronicle their endeavors.
Copies of the film are available for $3 from The Outlet.
For those who missed the first showing, don't worry, you still have a chance. All showings begin at 8 p.m.
n Monday, April 23, Room 459 in the Business and Economics Building. This showing will be followed by behind the scenes footage and bloopers.
n Tuesday, April 24, 123 Pleasant St. A one-hour play by the WVU theatre department will be shown before the film.
n Wednesday, April 25, G-21 in White Hall. This show will be followed by a presentation of Death Sled's 45-minute film 921, a voyeuristic look into the Morgantown party scene.
n Thursday, April 26, G-21 in White Hall. This will be followed by Killer Ninja's Super Vampire Bloodbath 2009, winner of The Outlet's 2000 Halloween Film Festival.
n Friday, April 27, G-21 in White Hall
For more information about The Outlet or The Pirates of I-79, visit the Web site at http://www.wvoutlet.com.