This article appeared in the Dominion Post Newspaper on October 17, 2002.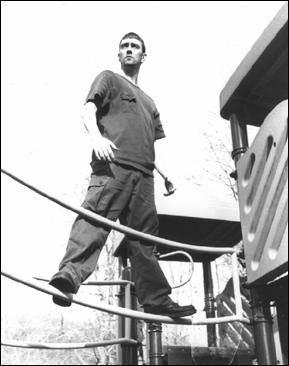 Brice Kennedy, who many will remember as the man who stood in the middle of Patteson Drive in his briefs last year, will star in his own 30-minute comedic variety show, airing next month on Mountain Digital Channel 7 in Preston County and PCTV Channel 21 in Pittsburgh. The episodes are filmed in Pittsburgh and Morgantown.
* DINOSAURS, FOSSILS & More, a prehistoric planet located in the Middletown Mall exhibits a large collection of museum quality replica dinosaur skeletons, skulls and fossils from all over the world. Highlights include a 5-foot Tyrannosaurus Rex skull, Velociraptor skulls an d claws, Saber-tooth cat skulls, Woolly Mammoth teeth and more. Admission is free. School groups are welcome by appointment for special tours and lectures. Hours are from 10 a.m.-9 p.m. Monday through Saturday. Info: 366-1810.
* SUSAN TING & "Friends," an exhibit of her small, whimsical friends in ceramic sculpture that reflect human gestures and attitudes, is on display through Nov. 23 at Zenclay Studio and Gallery, 2862 University Ave. An opening reception will be from 6:30-8:30 p.m. Saturday. Info: 599-POTS.
* MORGANTOWN ART Association presents its 35th annual all-member show through Oct. 24. Works can be viewed at the Benedum Gallery of the Monongalia Arts Center, 107 High St., Morgantown. Hours are from 9 a.m.-5 p.m. Monday through Friday and from 10 a.m.-noon Saturday.
* ZENCLAY Gallery, 2862 University Ave., is featuring a pottery exhibition of recent works from Chautauqua by Emily Reason through Saturday.
* HARE HILL: An Artisans Marketplace, 100 W. State Ave. (W.Va. 7) in Terra Alta, features the creations of Weston artist, KAIA. Her distinctive collages incorporate uplifting images and messages. KAIA's work will be showcased through Nov. 15 Hours are from 11 a.m.-7 p.m. Monday through Saturday. Info: 789-3010.
* ADALAND MANSION in Philippi will offer historic guided tours from 11 a.m.-5 p.m. Wednesdays, Thursdays, Saturdays and from 1-5 p.m. Sundays through Dec. 31. Admission is $5 for adults. Visitors may tour the yard and gardens free. Call 457-1587.
* "EARTH 2 U: Exploring Geography," an interactive exhibit for families, is on display at the Sen. John Heinz Pittsburgh Regional History Center through Nov. 3. Guests can walk through a giant globe, get their passports stamped at each activity station and discover what triggers a tornado, hurricane, cyclone and earthquake. Learn about the geography of Western Pennsylvania and how geography plays an important role in the evolution of an area's population. "Earth 2 U" is a traveling exhibit from the Smithsonian Institution.
* APPALACHIAN GALLERY, 44 High St., is featuring the newest works by two West Virginia artists, Don Whitlatch and Charlotte Gerlach. The limited edition lithograph by Whitlatch, "The Spirit," depicts the Mountaineer statue set against a background of colorful autumn hills of West Virginia. Gerlach's "Blackwater Falls" is a giclee, a limited edition print of exceptional quality, depicting the cascading falls surrounded by summer greenery and rhododendron blossoms. Both works have been released on both paper and canvas editions. Hours: 9 a.m.-6 p.m. Monday through Friday and 9 a.m.-5 p.m. Saturday.
* THE GALLERY at Seneca Center is featuring Buckhannon artist Ron Hinkle's graceful blown-glass bowl. Hours: 10 a.m.-6 p.m. Monday through Friday and from 10 a.m.-5 p.m. Saturday at the historic Seneca Center on Beechurst Avenue.
* ROSE GALLAGHER, a member of the Morgantown Art Association is exhibiting her acrylic seascapes in the Beneficial Finance windows during October.
* MEMBERS OF THE Morgantown Art Association are exhibiting paintings at the Public Safety Building on Spruce Street.
* THE OIL AND WATERCOLOR paintings by Deborah Diane Lester are on exhibit at the Tea Garden, 2862 University Ave. Hours: 7 a.m.-11 p.m. Tuesday through Friday and 2-11 p.m. Saturday.
* OCTOBER COUNTRY Western Dance, sponsored by the Mountain State Drifters is from 8-11 p.m. Oct. 25 at Morgantown Elks Lodge #411, Chestnut Ridge Road. Cost is $5 per person. There will be couples and line dancing, with a DJ playing your favorite dance music. Info: 599-1943.
* FABULOUS HUBCAPS will perform at 8 p.m. Oct. 26 at Lakeview Golf Resort & Spa. Guests can enjoy hits from the '50s, '60s and '70s. Tickets are $20. Info: 598-1337. Proceeds benefit the Foundation of Mon General Hospital's community scholarship fund.
* FRIENDS OF OLD Time Music will sponsor a square dance from 8-10:30 p.m. Oct. 26 at Marilla Center. Live music will be provided by Rachel Eddy & Friends. Casual attire. Beginners, singles and couples are welcome. Donations of $5 for adults and $3 for students are appreciated. This mix of old dances commences with a brief walk-throug h. Info: 296-4954.
* BOPARC SENIOR Recreation Center will host square dance lessons every Tuesday. Lessons are at 7 p.m. at Marilla Center. Dennis Fisher is the instructor. There is no fee, but participants need a partner. Info: 296-7002.
* BALLROOM DANCE CLASSES are being offered by the Arthurdale Heritage Inc. from 7-8 p.m. every Thursday. Cost is $50 for couples and $30 per person. A variety of dances will be covered. Instructors are Al and Kitty Gouldin. Proceeds will benefit the Arthurdale Heritage Inc. To register: 864-3959.
* A SINGLE'S DANCE, sponsored by Parents Without Partners, is at 7 p.m. the first Sunday of each month at Morgantown Ramada Inn. Cost is $6. Info: 879-5182.
* CORE COMMUNITY Center hosts line dancing from 6:30-8 p.m. every Tuesday and clogging from 6:30-7:30 p.m. every Thursday . Both classes are for beginners and intermediates. Line dancing instructor is Charlie Campalonga. Clogging teacher is Connie Price. Info: 879-5656.
* THE WESTERN STARS Square and Round Dance club sponsors a dance from 8-10:30 p.m. every Friday at the Marilla Center. Caller is R. Newman and cuer is J. Saurborn. This is a harvest dance. Bring finger foods. Info: 292-3552, 983-2143 or 292-2430.
* THE ARTHURDALE HERITAGE Center sponsors an old-time dance every third Friday.
* LINE AND COUPLES dancing is taught by Mary Dodd from 7-9 p.m. Wednesdays and Thursdays at the Morgantown Elks. Info: 598-0303.
* BEGINNER LINE dancing will be taught at 6 p.m. Mondays at the Senior Monongalians, enter from Spruce Street. For a parking permit and other info: 599-6170.
* CITY OF WESTOVER Parks and Recreation Commission is sponsoring social dance lessons. Dances include swing, salsa, cha-cha, hustle and merengue. Lessons are from 7:30-8:45 p.m. Thursdays at the Morgan Heights Community Building. Dress comfortably. Leather-soled shoes are necessary. Cost is $6 per couple. To register: 296-6860.
* 10TH ANNUAL Fright Night returns to the Amphitheatre at Station Square in Pittsburgh through Nov. 2. Admission is $12.99 per person.
* EASTON ROLLER MILL will be open for tours from 12:30-4:30 p.m. the first and third Sundays through October . There is no fee for tours. Info: Richard Rice, 599-0833.
* TOMCHIN PLANETARIUM presents "Magellan: Report From Venus" at 7 and 8 p.m. Oct. 25 in Room 425 of Hodges Hall. Admission is free but reservations are required and can be made at 293-3422 Ext. 1443. Tomchin Observatory, located on the fourth floor of Hodges Hall, opens at 8:50 p.m. for public viewing on the same night if the sky is clea r.
* THE BLUE MOOSE CAFE features poetry readings from 8-10 p.m. every other Monday. Info: 292-8999.
* THE GREENSPACE Coalition offers a series of "Green-easy Walks" from 8-9 a.m. every Tuesday and Thursday beginning at the train depot. Info: Greg Good at 291-3091 or ggood@wvu.edu.
* MOUNTAINAIRES, a men's barbershop harmony chorus, meets each Monday at Central Christian Church, Big Tree Drive, Fairmont. Info: 599-0742 or 598-3679.
* SWEET ADELINES International, Mountain Harmony Chorus, a women's barbershop chorus, meets from 7:30-10 p.m. each Wednesday at the city hall building in Star City. Info: 599-0330.
Concerts & shows

* PERCUSSION ENSEMBLE Concert is at 8 p.m. today and Friday in the Mountainlair Ballrooms. Tickets: 293-SHOW.
* FACULTY CHAMBER CONCERT is set for 8:15 p.m. Tuesday in the Choral Recital Hall of CAC.
* POINT MARION (Pa.) Lion's Club will host a country music jamboree the second Saturday of each month at Point Marion Lion's Club Skating Rink. Open stage is from 6-7 p.m., with the show to follow from 7-10 p.m. Info: (724) 725-5737.
* THE PURPLE FIDDLE Coffeehouse and Mountain Market in Thomas, features traditional and folk music in a smoke-free, family environment. Admission is $5. Info: (304) 463-4040 or purplefiddle_coffeehouse@yahoo.com.
* GEORGE CARLIN with special guest Dennis Blair plays at 7:30 p.m. Nov. 1 at the Charleston Municipal Auditorium. Tickets are $32.50 and $27.50.
* SAGEBRUSH ROUND-UP, Bunners Ridge, near Fairmont will host a country music show Saturday. Open mic begins at 6 p.m. Featured acts are Ray Hileman & the Country Music Makers, Classic Country, Mountain Melodies, plus the Houseband Stagecoach. Cost is $3 for adults and $1 for children under 12. Info: 292-5854 or 363-4864.
* ELKO CONCERTS presents Good Charlotte at 7:30 p.m. today at the Metropol in Pittsburgh, tickets are $14; Gene Loves Jezebel at 8 p.m. Tuesday at the Rosebud in Pittsburgh, tickets are $13; Bob Mould at 8 p.m. Oct. 26 at the Rosebud, tickets are $15; Eddie From Ohio at 8 p.m. Nov. 1 at the Rosebud, tickets are $12. Tickets are available at all Ticketmaster outlets, select Giant Eagle's and Kaufmann's, Pauls CDs, CD Warehouse, M/Rosebud and the Palace Theater or online at www.ticketweb.com or www.ticketmaster.com or by calling (412) 323-1919.
* ELKINS CRYSTAL SPRINGS Jamboree is from 7-11 p.m. Saturday at U.S. 33, next to the Tastee Freez Restaurant. Alcohol is not permitted. All talent welcome. Info: (304) 636-5515 or call Iva at 292-7793.
* MOORE'S AUCTION Barn in Barrackville plays host to a number of country acts every Saturday. This Saturday, Moore's will host a BBQ Chicken & Rib dinner from 1-10 p.m. Featured acts are Bernice & Little Country, Melanie Lee & Nashville Bound and Dick Rutan & the Don't Do It Biscuits. Admission is free. Bring a covered dish to share. To book a show at Moore's Auction Barn, call Betty Crow at 983-2336.
* BIG CIRCLE Jamboree, three miles north of Fairview on W.Va. 218, will host a country show from 6-10 p.m. every Friday. Featured acts are Rusty Hinges, Whirlwind and Dick Rutan. Info: Jim Fletcher at 449-1270.
* CINDY'S COUNTRY Music Show is every Friday in downtown Hundred. Info: 775-2355.
* THE HISTORIC Alpine Theatre, 1600 Pennsylvania Ave., Hundred, features music by Big Country, Jack Cartwright and Whirlwinds. Shows are from 7-10 p.m. Saturday. Admission is $2 per person, with children under 12 admitted free. Info: 775-5378.
* NEW FREEPORT Fire Hall (Pa.) country and gospel music show is from 7-10 p.m. the second and fourth Saturday. There is a $2 charge at the door. Info: (724) 447-2055.
* TEA GARDEN CAFE at 2862 University Ave., features Billy Matheny and company Friday and Siang Tay Saturday. Performances are from 8:30-10:30 p.m. No cover charge. Specialty beverages including coffees, teas and smoothies and desserts are available. Limited food will be served. Info: 599-2069.
* CARLA DARUDA performs at the 30th Annual John Henry Festival from 2-8 p.m. Sunday at Riverfront Park.
* COUNTRY and gospel music to benefit the children's playground on Maple Avenue in Grafton will be the last Sunday of every month. Music will be provided by area bands. Food will also be available. Info: 265-3293.
* MCCURDYSVILLE COUNTRY music shows are each Friday at the McCurdysville Community Building. Featured acts are Memory Makers, Embassadors for Christ and Just Us Three & Me. To book a band, call Jim or Lisa at 278-5725. All welcome.
* LAUREL MOUNTAIN Coffeehouse located at Monroe's Restaurant in Kingwood presents Cat McConnell, Daria Jones and Dave Pollard from 8-10 p.m. Saturday. Info: 329-3354.
* MICKEY SHARP TRIO plays every Friday in the lounge of Becker's Shadyside Restaurant in Uniontown, Pa., from 7-10 p.m. Info: (724) 438-0931. * GARY'S MUSIC Jamboree is 7-11 p.m. every Saturday . The jamboree is located at the bowling alley on U.S. 50, east of Grafton, one mile from Four Corners Restaurant. Featuring the house band: Mama's Pride with Eileen Smith. All talent is welcome. A $3 donation at the door. Food is available. Gary's will also host a Halloween party Oct. 26. Costumes are optional, however prizes will be awarded for costumes. To book an act: Gary, 265-3293.
* BRAD PAISLEY with special guests Andy Griggs and Tommy Shane Steiner performs at 8 p.m. Oct. 25 at the Charleston Civic Center. Tickets are $29.50.
* THE CHARLESTON BALLET performs at 8 p.m. Oct. 25-26 at the Charleston Civic Center. The performance mixes the traditional beauty of "Les Sylphides" with Latin jazz sounds in "Celebration." Colin Dunne, former principal dancer with Riverdance and "She Loves You" will take part in the performance. Individual tickets are $17 for adults and $12 for students and senior citizens.
* CAPTIOL MUSIC HALL in Wheeling will present Collin Raye at 7 p.m. Saturday, tickets are $19.95 and $23.95; Tracy Byrd at 7 p.m. Oct. 26, tickets are $19.95 and $23.95; Ronnie Milsap at 7:30 p.m. Nov. 1, tickets are $19.95 and $23.95. Tickets are available by calling (800) 624-5456. Group tickets: (800) 624-2871.
* MOUNTAIN STAGE presents Joshua Redman, Mary Gauthier and other guests at 6 p.m. Sunday at the Cultural Center in Charleston. Tickets are $8.50 in advance and $12 at the door. Tickets and info: 696-6656.
Club Scene
* LOOSE ENDS plays Saturday at 3-Ways in Kingwood.
* X-CELLERATE plays Saturday at the Sundance Saloon in Hepzibah.
* THE B.S. CLUB features the Falcons Friday and karaoke with Cadillac Jack Saturday.
* SONNY NESTOR plays Saturday at the Eldorado in Grafton.
* ARCHIE'S in Sabraton features the Davison Brothers today ; Backseat Driver Friday and karaoke by Baltimore Sound Saturday.
* BROTHER SHORT plays Friday and Saturday at the Filling Station in Parkersburg.
* ANGER WITHIN plays today at Shooter Luke's in Fairmont.
* THE PURPLE COW Lounge features Mr X Friday and Straight Up Saturday.
* GIBBIE'S features The New Relics Friday and Jr. Pezz & the Sliknutz Saturday.
* BUCK NAKED plays Friday at the Caddy Shack in Fairmont.
* THIRD ROCK plays Saturday at the Ordinary in Clarksburg.
* SILVER DOLLAR plays Friday at Soulie's in Point Marion, Pa., and Saturday at Morgantown VFW.
* WV BREWING CO. features Caribou Jazz Project today , Dave Pahanish Friday and South Catherine Street Jug Band Saturday.
* JUDIE'S LOUNGE features Baltimore Sound with Brandon Friday and The Majors Saturday.
* TRIP'S BAR & Grill features No Romance Friday and John Fritz Saturday.
* COOPS M&M II, Kingwood Pike, features karaoke each Tuesday and Thursday, Outlook Friday and Evolution Saturday. Info: 291-2060.
* L.Z., formerly known as Danos, located on W.Va. 73, has ladies night today, Straight Up Friday, NASCAR Sunday and Monday Night Football Monday.
* BUCK'S CORNER PUB is featuring The Storytellers from 10 a.m.-2 p.m. today; oldies music from 4:30-7:30 p.m., King Wolf karaoke from 9 p.m.-1 a.m. and a DJ and dancing by Smoke House from 1-3 a.m., all Friday; and a DJ and dancing by Smoke House Saturday from 10 p.m.-3 a.m. ($2 cover charge); Wednesday's are Ladies Night Out.
* ACT 2 THEATRE Company presents the musical thriller "Sweeney Todd -- the Demon Barber of Fleet Street," directed and starring Peter Lightfoot Oct. 26-27 and Nov. 1-3 at the Robert C. Byrd Theatre in Clarksburg. Tickets: 622-3066.
THE CALENDAR is compiled by Lisa Ann Musick, a staff writer at The Dominion Post.